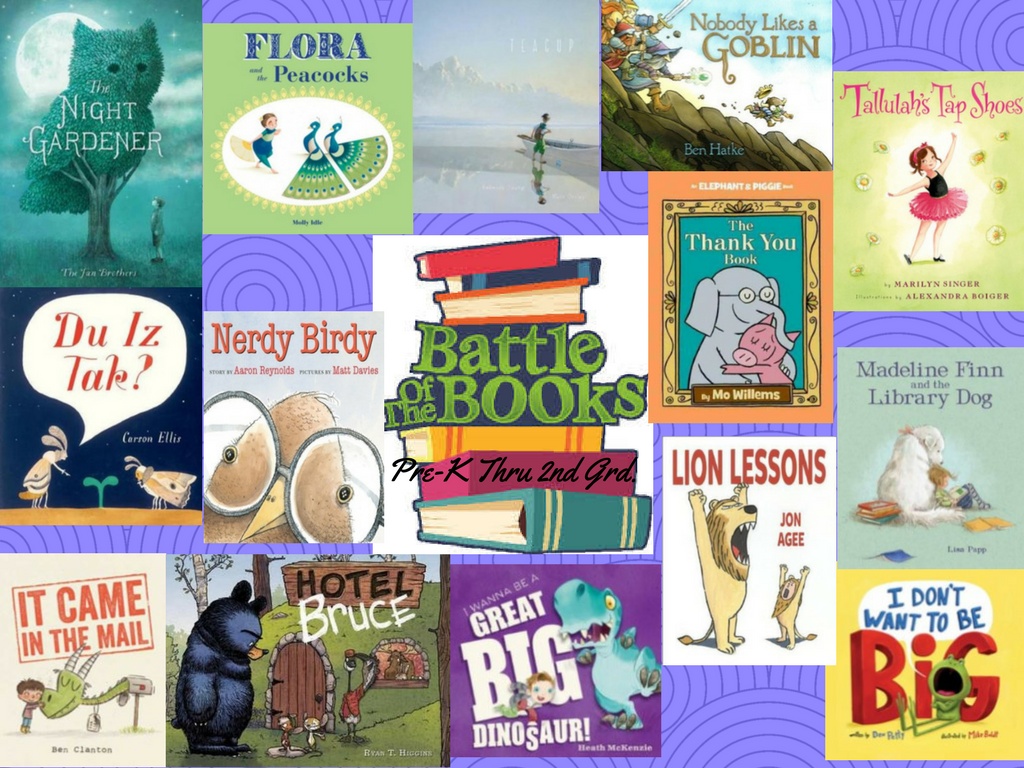 I Don't Want To Be Big:  Dev Petty
Frog does NOT want to grow up. Doesn't need to be tall. Doesn't want to be able to jump high enough to see the tree frogs. He's just FINE being small. Besides, if you grow up, you don't get to do fun things like jump in mud puddles with your best friend, Pig. Do you?
 It Came In the Mail: Ben Clanton
From the author-illustrator of Something Extraordinary comes a tale filled with dragons, pickles, friendship, and lots of mail—perfect for fans of Mo Williams and Bob Shea. Liam really wants some mail, so he writes a letter to his mailbox asking for something in return. His mailbox delivers, sending Liam more than he could have hoped for…and how! But as the mail starts to pile up, Liam realizes that the best packages and parcels are even better when shared with friends.
Ida, Always: Caron Levis
Gus lives in a big park in the middle of an even bigger city, and he spends his days with Ida. Ida is right there. Always. Then one sad day, Gus learns that Ida is very sick, and she isn't going to get better. The friends help each other face the difficult news with whispers, sniffles, cuddles, and even laughs. Slowly Gus realizes that even after Ida is gone, she will still be with him—through the sounds of their city, and the memories that live in their favorite spots. Ida, Always is inspired by a real bear friendship.
Teacup: Rebecca Young
A boy must leave his home and find another. He brings with him a teacup full of earth from the place where he grew up, and sets off to sea. Some days, the journey is peaceful, and the skies are cloudless and bright. Some days, storms threaten to overturn his boat. And some days, the smallest amount of hope grows into something glorious. At last, the boy finds land, but it doesn't feel complete . . . until another traveler joins him, bearing the seed to build a new home.
I Wanna Be a Great Big Dinosaur: Heath McKenzie
More than anything in the world, one little boy wants to be a great big dinosaur. And he's in luck! A great big T. Rex shows up to teach him how to stomp and roar just like a dinosaur. But dinosaurs aren't so great at soccer or video games… Maybe being a little boy isn't all bad?
A story about being whoever (or whatever) you want!
Lion Lessons: Jon Agee
There are seven steps to becoming a proper lion, including Looking Fierce, Roaring, Prowling Around, and Pouncing. Our young hero, a rather meek and scrawny human boy, does his best to learn the necessary skills during his training with a master instructor (who just happens to be a real lion). After a grueling set of lessons, the boy discovers that that the final step—Looking Out for Your Friends—is the most important of all. That's how any kid can earn his lion diploma (not to mention the affection of every cat in town).
Flora and the Peacocks: Molly Idle
The darling, dancing Flora is back, and this time she's found two new friends: a pair of peacocks! But amidst the fanning feathers and mirrored movements, Flora realizes that the push and pull between three friends can be a delicate dance. Will this trio find a way to get back in step? In the third book featuring Flora and her feathered friends, Molly Idle's gorgeous art combines with clever flaps to reveal that no matter the challenges, true friends will always find a way to dance, leap, and soar—together.
Du Iz Tak:  Carson Ellis
Du iz tak? What is that? As a tiny shoot unfurls, two damselflies peer at it in wonder. When the plant grows taller and sprouts leaves, some young beetles arrive to gander, and soon—with the help of a pill bug named Icky—they wrangle a ladder and build a tree fort. But this is the wild world, after all, and something horrible is waiting to swoop down—booby voobeck!—only to be carried off in turn. Su! With exquisitely detailed illustrations and tragicomic flair, Carson Ellis invites readers to imagine the dramatic possibilities to be found in even the humblest backyard. Su!
Madeline Finn and the Library Dog: Lisa Papp
Madeline Finn DOES NOT like to read. Not books. Not magazines. Not even the menu on the ice cream truck. Fortunately, Madeline Finn meets Bonnie, a library dog. Reading out loud to Bonnie isn't so bad. When Madeline Finn gets stuck, Bonnie doesn't mind. Madeline Finn can pet her until she figures the word out. As it turns out, it's fun to read when you're not afraid of making mistakes. Bonnie teaches Madeline Finn that it's okay to go slow. And to keep trying. And to get support from a friend.
The Night Gardener: The Fan Brothers
One day, William discovers that the tree outside his window has been sculpted into a wise owl. In the following days, more topiaries appear, and each one is more beautiful than the last. Soon, William's gray little town is full of color and life. And though the mysterious night gardener disappears as suddenly as he appeared, William—and his town—are changed forever.
The Thank You Book: Mo Willems
Gerald is careful. Piggie is not.
Piggie cannot help smiling. Gerald can.
Gerald worries so that Piggie does not have to.
Gerald and Piggie are best friends.
In The Thank You Book!, Piggie wants to thank EVERYONE. But Gerald is worried Piggie will forget someone . . . someone important.
Hotel Bruce: Ryan T. Higgins
When Bruce gets home from a southern migration trip with his goslings, he is tired. He is grumpy. And he is definitely not in the mood to share his home with the trio of mice who have turned his den into a hotel.There's a possum pillow fight wreaking havoc in one room, a fox luring guests into a stew in the kitchen, and a snuggly crew of critters hogging the bed. Bruce growls and grumbles and tries to throw them all out, but the entrepreneurial mice just can't take a hint. Bruce is in a little over his head, especially once the goslings join the staff. Will this grumpy bear ever get his quiet, peaceful den back to himself?
Nobody Likes a Goblin: Ben Hatke
Goblin, a cheerful little homebody, lives in a cosy, rat-infested dungeon, with his only friend, Skeleton. Every day, Goblin and Skeleton play with the treasure in their dungeon. But one day, a gang of "heroic" adventurers bursts in. These marauders trash the place, steal all the treasure, and make off with Skeleton—leaving Goblin all alone!It's up to Goblin to save the day. But first he's going to have to leave the dungeon and find out how the rest of the world feels about goblins.
Tallulah's Tap Shoes: Marilyn Singer
It's summer, and Tallulah is excited about going to dance camp. She'll get to take plenty of ballet classes. She'll have to take tap, too, and she's NOT excited about that. She's never taken tap before, so she'll be a beginning beginner. And she's right—tap class is not much fun. Plus there's a girl her same age who's maddeningly good at tap dancing. But that same girl isn't very good at ballet . . . could it be that she and Tallulah have something in common?
Nerdy Birdy: Aaron Reynolds
Nerdy Birdy likes reading, video games, and reading about video games, which immediately disqualifies him for membership in the cool crowd .One thing is clear: being a nerdy birdy is a lonely lifestyle. When he's at his lowest point, Nerdy Birdy meets a flock just like him. He has friends and discovers that there are far more nerdy birdies than cool birdies in the sky. And then another bird moves in….
Snappsy the Alligator: Julie Falatko
Snappsy the alligator is trying to go about his very ordinary day when a pesky narrator steps in to spice up the story with slanderous claims. Is Snappsy making crafty plans? Is he prowling for defenseless birds and soft, fuzzy bunnies? Is Snappsy a big, mean alligator who's obsessed with snack foods that start with the letter P? It's no wonder Snappsy won't invite the narrator to his party!