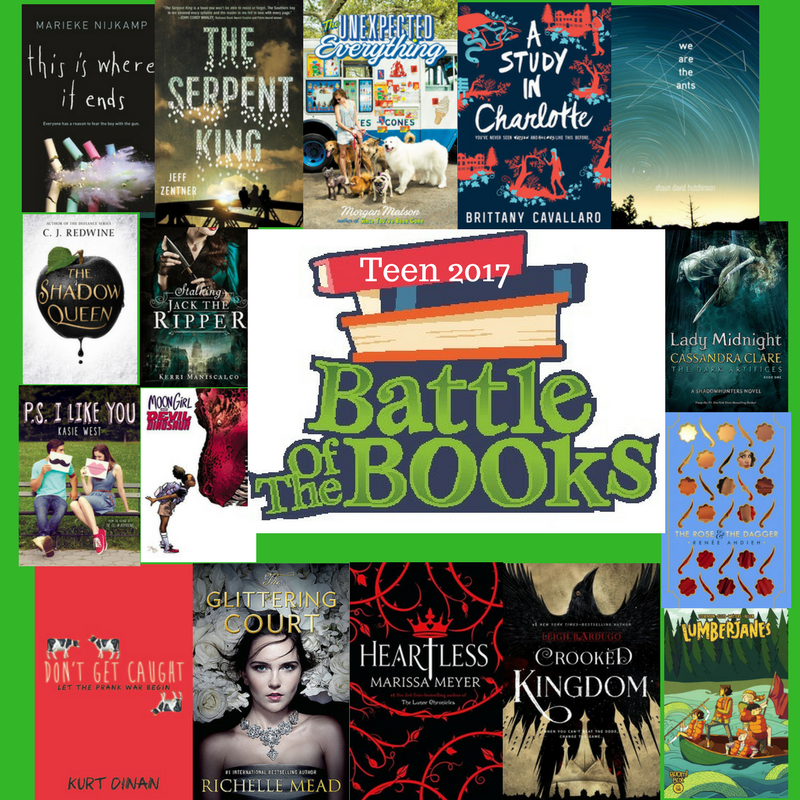 The Serpent King  by Jeff Zentner
Dill has had to wrestle with vipers his whole life at home, as the only son of a Pentecostal minister who urges him to handle poisonous rattlesnakes, and at school, where he faces down bullies who target him for his father's extreme faith and very public fall from grace.
The only antidote to all this venom is his friendship with fellow outcasts Travis and Lydia. But as they are starting their senior year, Dill feels the coils of his future tightening around him. Dill's only escapes are his music and his secret feelings for Lydia, neither of which he is brave enough to share. Graduation feels more like an ending to Dill than a beginning. But even before then, he must cope with another ending- one that will rock his life to the core.
We are the ants by Shawn David Hutchinson
Life hasn't been great for Henry: his mom is held together by a thin layer of cigarette smoke; his brother is a jobless dropout. And Henry is still dealing with the grief of his boyfriend's suicide last year. Henry has spent years being periodically abducted by aliens. Then the aliens give him an ultimatum: the world will end in 144 days and all Henry has to do to stop it is push a big red button. Weighing the pain and the joy that surrounds him, Henry can choose to save the planet… or let it be destroyed.
P.S. I like you by Kasie West
While spacing out in chemistry class, Lily scribbles some of her favorite song lyrics onto her desk. The next day, she finds that someone has continued the lyrics on the desk and added a message to her. Intrigue!
Soon, Lily and her anonymous pen pal are exchanging full-on letters—sharing secrets, recommending bands, and opening up to each other. Lily realizes she's kind of falling for this letter writer. Only, who is he? As Lily attempts to unravel the mystery and juggle school, friends, crushes, and her crazy family, she discovers that matters of the heart can't always be spelled out…
Unexpected Everything by Morgan Matson
Andie had it all planned out. When you are a politician's daughter who's pretty much raised yourself, you learn everything can be planned or spun, or both. Especially your future. Important internship? Check. Amazing friends? Check. Guys? Check (as long as we're talking no more than three weeks).
But that was before the scandal. Before having to be in the same house with her dad. Before walking an insane number of dogs. That was before Clark and those few months that might change her whole life. Because here's the thing—if everything's planned out, you can never find the unexpected. And where's the fun in that?
The Rose and The Dagger by Renee Ahdieh
Shahrzad's loyalties are tested after she is reunited with her family, who have found sanctuary with enemies of her husband, the Caliph, and her childhood sweetheart, who now commands forces set on destroying the Caliph's empire.
Crooked Kingdom by Leigh Bardugo
Kaz Brekker and his crew have just pulled off a heist so daring even they didn't think they'd survive. But instead of divvying up a fat reward, they're right back to fighting for their lives. Double-crossed and left crippled by the kidnapping of a valuable team member, the crew is low on resources, allies, and hope. As powerful forces from around the world descend on Ketterdam to root out the secrets of the dangerous drug known as jurda parem, old rivals and new enemies emerge to challenge Kaz's cunning and test the team's fragile loyalties. A war will be waged on the city's dark and twisting streets―a battle for revenge and redemption that will decide the fate of magic in the Grisha world.
Glittering Court by Richelle Mead
For a select group of girls, the Glittering Court offers a shot at a life they've only ever dreamed of, one of luxury, glamour, and leisure. To high-born Adelaide, whose wealthy family is forcing her into a loveless marriage, the Glittering Court represents something else: the chance to chart her own destiny, and adventure in an unspoiled, prosperous new land across the sea. After a chance meeting with the dazzling Cedric Thorn, Adelaide poses as a servant to join the crop of impoverished girls he promises to transform into proper ladies. But her familiarity with upper class life comes with a price: she must hide her identity from her new friends, mysterious refugee Mira and fiery former laundress Tamsin, and most importantly, from Cedric himself–even though she's falling in love with him. Everything begins to crumble when Cedric discovers Adelaide's ruse, and she catches the eye of a powerful young governor, who wants her for a wife. She didnt leave the gilded cage of her old life behind just to become someone else's property. But nothing is as daunting–or as wonderful–as the potent, forbidden attraction simmering between Adelaide and Cedric. One that, if acted on, would make them both outcasts in a wild, dangerous, uncharted world, and possibly lead them to their deaths
Lady Midnight by Cassandra Clare
Shadowhunter Emma Carstairs and her parabatai Julian Blackthorn race to stop a demonic plot that threatens Los Angeles
Don't Get Caught by Kurt Dinau
When Max receives a mysterious invite from the untraceable, epic prank-pulling Chaos Club, he has to ask: why him? After all, he's Mr. 2.5 GPA, Mr. No Social Life. He's Just Max. And his favorite heist movies have taught him this situation calls for Rule #4: Be suspicious. But it's also his one shot to leave Just Max in the dust…
Yeah, not so much. Max and four fellow students-who also received invites-are standing on the newly defaced water tower when campus security "catches" them. Definitely a setup. And this time, Max has had enough. It's time for Rule #7: Always get payback.
Let the prank war begin.
This is where it ends by Marieke Nijkamp
10:00 a.m. The principal of Opportunity High School finishes her speech, welcoming the entire student body to a new semester and encouraging them to excel and achieve.
10:02 a.m. The students get up to leave the auditorium for their next class.
10:03 a.m. The auditorium doors won't open.
10:05 a.m. Someone starts shooting.
Told from four different perspectives over the span of fifty-four harrowing minutes, terror reigns as one student's calculated revenge turns into the ultimate game of survival.
The Shadow Queen by C. J. Redwine
This retelling of Snow White follows the adventures of Lorelai, an exiled princess who is being pursued by a magic-wielding prince serving as the personal huntsman for evil queen Irina, who has charged him with bringing her Lorelai's heart.
Heartless by Marissa Meyer
Catherine may be one of the most desired girls in Wonderland and a favorite of the unmarried King, but her interests lie elsewhere. A talented baker, she wants to open a shop and create delectable pastries. But for her mother, such a goal is unthinkable for a woman who could be a queen.
At a royal ball where Cath is expected to receive the King's marriage proposal, she meets handsome and mysterious Jest. For the first time, she feels the pull of true attraction. At the risk of offending the King and infuriating her parents, she and Jest enter into a secret courtship.
Cath is determined to choose her own destiny. But in a land thriving with magic, madness, and monsters, fate has other plans.
Stalking Jack the Ripper by Kerri Maniscalco
Seventeen-year-old Audrey Rose Wadsworth was born a lord's daughter, with a life of wealth and privilege stretched out before her. But between the social teas and silk dress fittings, she leads a forbidden secret life.
Against her stern father's wishes and society's expectations, Audrey often slips away to her uncle's laboratory to study the gruesome practice of forensic medicine. When her work on a string of savagely killed corpses drags Audrey into the investigation of a serial murderer, her search for answers brings her close to her own sheltered world.
Study in Charlotte by Brittany Cavallaro
Sherlock Holmes and Dr. Watson descendants, Charlotte and Jamie, students at a Connecticut boarding school, team up to solve a murder mystery.
Lumberjanes vol.3: A Terrible Plan
When you're a scout, nothing is more important than being prepared, but how do you prepare for legions of supernatural creatures threatening to beat down your scouting camp's door? Jo, April, Mal, Molly, and Ripley are about to find out! It's just supposed to be a normal day at camp with games and a bit of canoeing, but when the girls find themselves separated from the rest of camp they realize there really is a lot more going on and it might be a unhelpful river monster that gives them the key to figuring everything out. Don't miss out on the second issue of this hot new series from Noelle Stevenson, Grace Ellis, and Brooke Allen!
Moongirl & Devil Dinosaur Vol 1: BFF
LUNELLA LAFAYETTE IS AN INHUMAN PRETEEN GENIUS WHO WANTS TO CHANGE THE WORLD!
That job would be a lot easier if she wasn't living in mortal fear of her latent Inhuman gene. There's no telling what she'll turn into – but Luna's got a plan. All she needs is an Omni-Wave Projector. Easy, right? That is, until a red-scaled beast is teleported from the prehistoric past to a far-flung future we call…today! Together they're the most Marvelous Team-Up of all – the Inhuman Moon Girl and time-tossed Devil Dinosaur! But will they be BFFs forever, or just until DD's dinner time? And Lunella soon learns that there are other problems with a having a titanic T. Rex as a pet in the modern-day Marvel Universe. School, for one. Monster hunters are another – especially when they're the Totally Awesome Hulk! Then there's the fact that everyone's favorite dino didn't journey through time alone. Beware the prehistoric savages known as the Killer-Folk – New York City's deadliest tourists! Can Lunella handle all this turmoil… and keep herself from transforming into an Inhuman monster?
Collecting MOON GIRL AND DEVIL DINOSAUR #1-6.